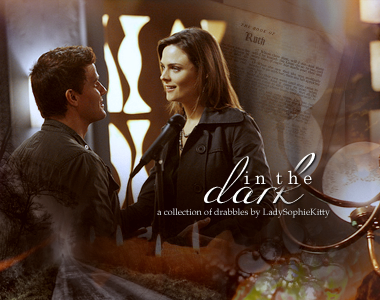 Title:
Fruit Salad
Author:
ladysophiekitty
Fandom:
Bones
Characters/Pairing:
Booth, Brennan Booth/Brennan.
Table:
In the Dark
Prompt:
#12, Electricity
Rating:
PG
Warnings:
slight spoilers for season 4
Word Count:
300
Summary:
This is for
dontgetanyolder
who gave me the prompt
Brennan catches Booth singing.
After the last ficlet for this series, here's something light! Thanks to
vamp926
and
christinaof94
for the help
Notes
:
The song is Fruit Salad by the Wiggles.
"Booth? Why are you singing a song about fruit salad?" Brennan asked.
"What?! I'm not singing. I'm doing paperwork. Quietly," Booth replied, putting emphasis on the last word. They went back to work and a few minutes later Brennan said, "You're doing it again! Something about eating up bananas and apples and fruit salad being yummy yummy. Is this another one of your side affects from the brain tumor, Booth? Should I tell Dr. Sweets about it?"
"Woah, no telling Sweets anything, Bones. I'm fine. I just had Parker over for the weekend. We were channel surfing and we came across a Wiggles song." After seeing her confused look he elaborated, "These group of guys who dress up and sing songs. Kids love 'em. Worse part is, they get stuck in your head. That and I had to make fruit salad for Parker this weekend."
"I thought you like fruit," Brennan stated.
"I like fruit in pies, Bones. There's a difference," Booth said, "At least I wasn't in a meeting this time. Nothing like being stuck in an important FBI meeting with little kid songs stuck in your head."
They both grinned at each other and then returned to work. When later on Booth started humming again, Brennan grinned again but didn't say anything.
Oh the joys of fatherhood.
Current Mood:

silly